Have you ever wondered why there are so many options for white paint? Surprisingly, there are several reasons for this massive selection, and you'll find that in the end, only a handful will work in your space. Turns out, white paint isn't so black & white after all.
Let's learn the essentials of white paint and what you must pay attention to before choosing the best white paint!
It's All About the Undertones
Yes, white paint has different undertones, and choosing the wrong one can create an odd and non cohesive look in your space. If you choose a warm white, then you must stick with warm white all throughout that room! Before you decide to repaint your kitchen, be sure you know the undertones of the other finishes in the space! The backsplash, the cabinets, the trim etc. They must complement one another.
Hold up your white paint swatch sample to a piece of printer paper. You'll instantly be able to see the undertones! Cool will appear blueish/ gray, and warm will be a faint beige/ yellow color. Combining the two in one room creates an unbalanced and unfinished materialization.
Warm White– Benjamin Moore, White Dove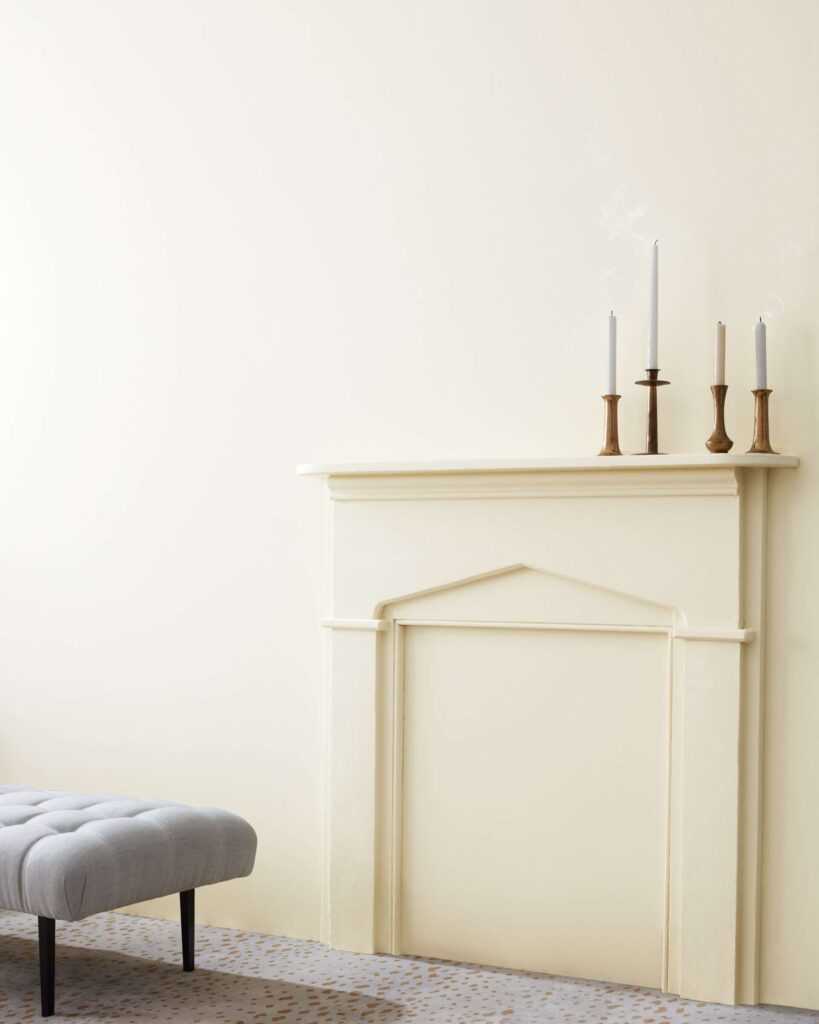 Cool White– Sherwin Williams, Extra White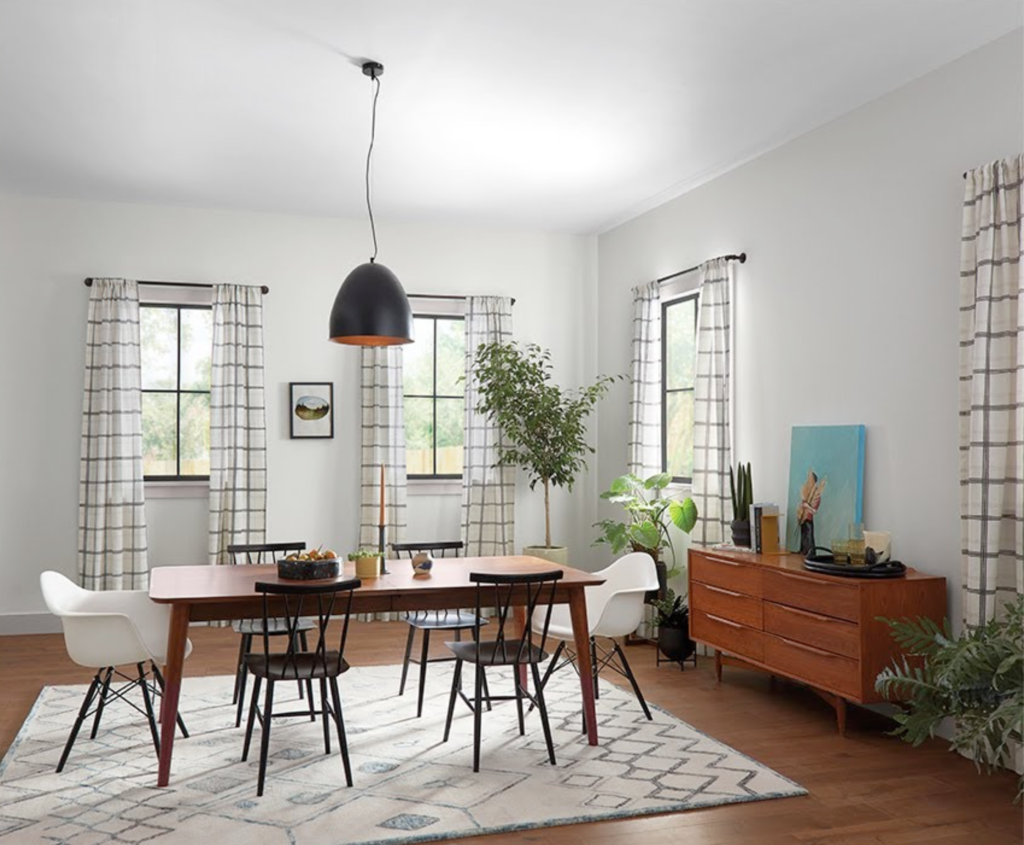 Look at the striking difference between the color in the two photos above! Both are white paint colors, yet with completely different undertones.
Remember the Lighting
Pay attention to how much and what kind of light each room is getting. Lighting can either enhance your white paint or create an unintended bland hue. A room without natural lighting can make your white paint appear dull and lifeless. The best trick to avoid this mishap is to paint large swatches of your paint varietals on the wall. Make a note of its appearance at different times of the day.  Be sure to note the difference in color between when sunlight directly hits the paint, when it's indirectly lit, and when you have your indoor lights on. Choose the one that looks most appealing throughout. 
I strongly urge you to buy extensive samples of paint. Yes, this can be more expensive but it will still be cheaper than repainting an entire room. Small swatches will not give you the same results as painting appropriately sized samples. You need to gauge the whole visual aspect of your paint options before choosing the best white paint!
The Five Types of White Paint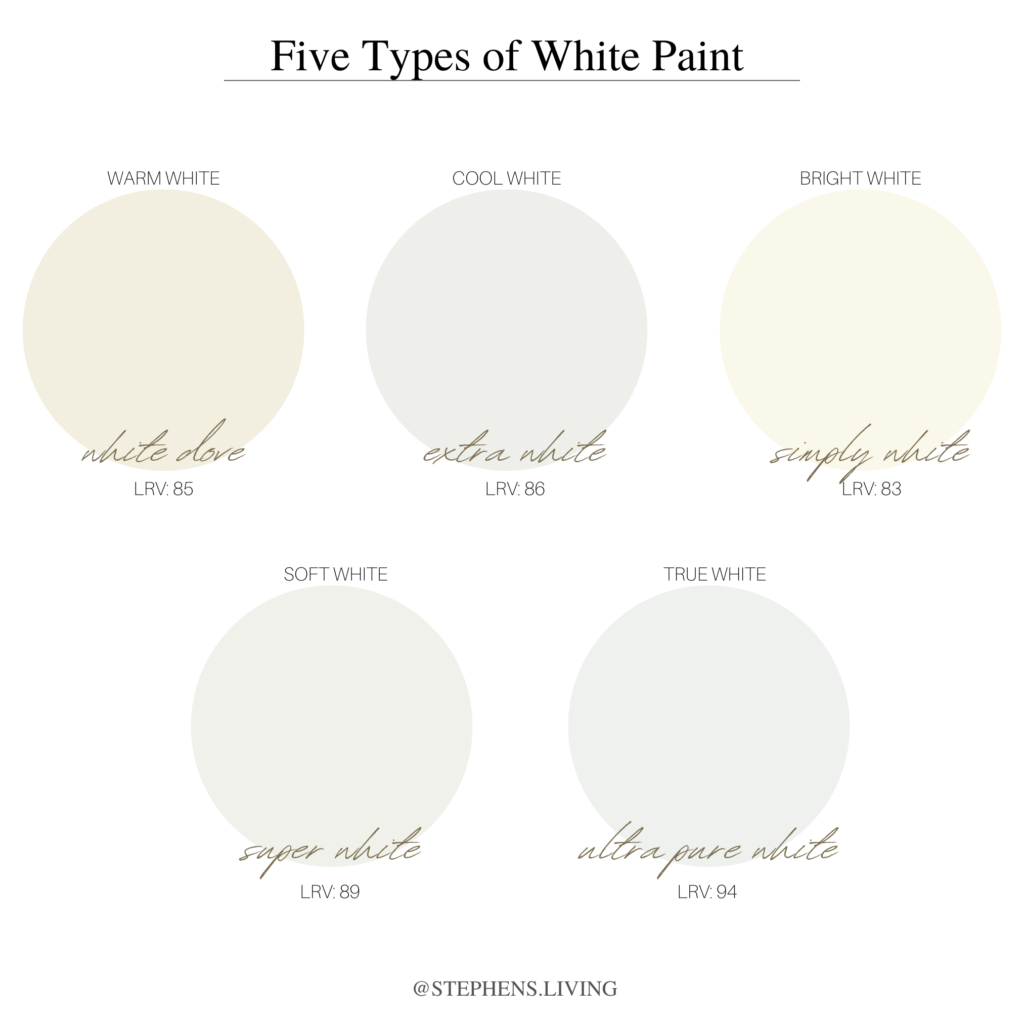 These different types of white paint all have a certain "LRV" or "light reflectance value". This represents a percentage of light a paint can reflect. For example, the deepest black would have a 0% LRV and the truest of whites would have a 100% LRV.
Warm white colors are typically used more often, especially with neutral based decor. They bring a certain level of "coziness" into your space while still providing that bright appearance (due to the LRV of the paint).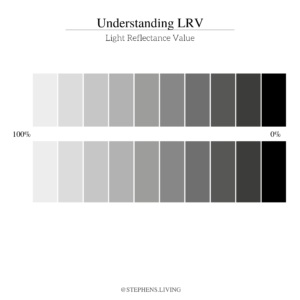 Choose High Quality Paint
I can not stress this enough… buy HIGH-quality paint! Especially in white! Spending hours painting a room only to look worn out and dull in months is frustrating. If you have kids, then pick a stain-resistant paint that won't chip off easily. 
The best thing about high-quality paint is you'll need less of it! It will spread and cover large areas with ease. It will last years longer than cheap paint and will reflect light the way you intended! If you have any doubts about the type of paint you're buying, it may be worth conversing with an interior designer or your local paint guru at the store. They understand everything there is to know about undertones, lighting, and paint quality and can significantly help you choose the best white paint! Utilize them!
Highest Quality Paint Brands of 2022:
Benjamin Moore
Sherwin Williams
Farrow & Ball
Rust- Oleum
Valspar
Glidden
My Favorite White Paint Colors
Sherwin Williams Pure white- Warm
SW Alabaster- Warm
Farrow & Ball Strong White- Cool
Benjamin Moore Swiss Coffee- Warm
BM Simply White- Warm
BM Chantilly Lace- Warm or cool, very little undertones but it will depend on your lighting