Pendant lighting is the easiest way to elevate your kitchen! It's an eye catching statement piece that quite literally, lights up the room. You may be wondering, how do you select the appropriate pendants? After you select them, how exactly do you place them? This guide to selecting and placing pendant lighting will answer all your questions.

Selecting your Pendants.
Firstly, select pendant lighting that matches your homes decor style while keeping proper sizing in mind. Remember, the size of your lighting is key to maintaining balance throughout the space. You should find pendants that won't overwhelm the size of your kitchen, or your island! Generally, the more pendants you have, the smaller they are going to be. The kitchen island and the pendant lighting you select will be the focal point of the space. Use the visual guide below to help so you can be an expert!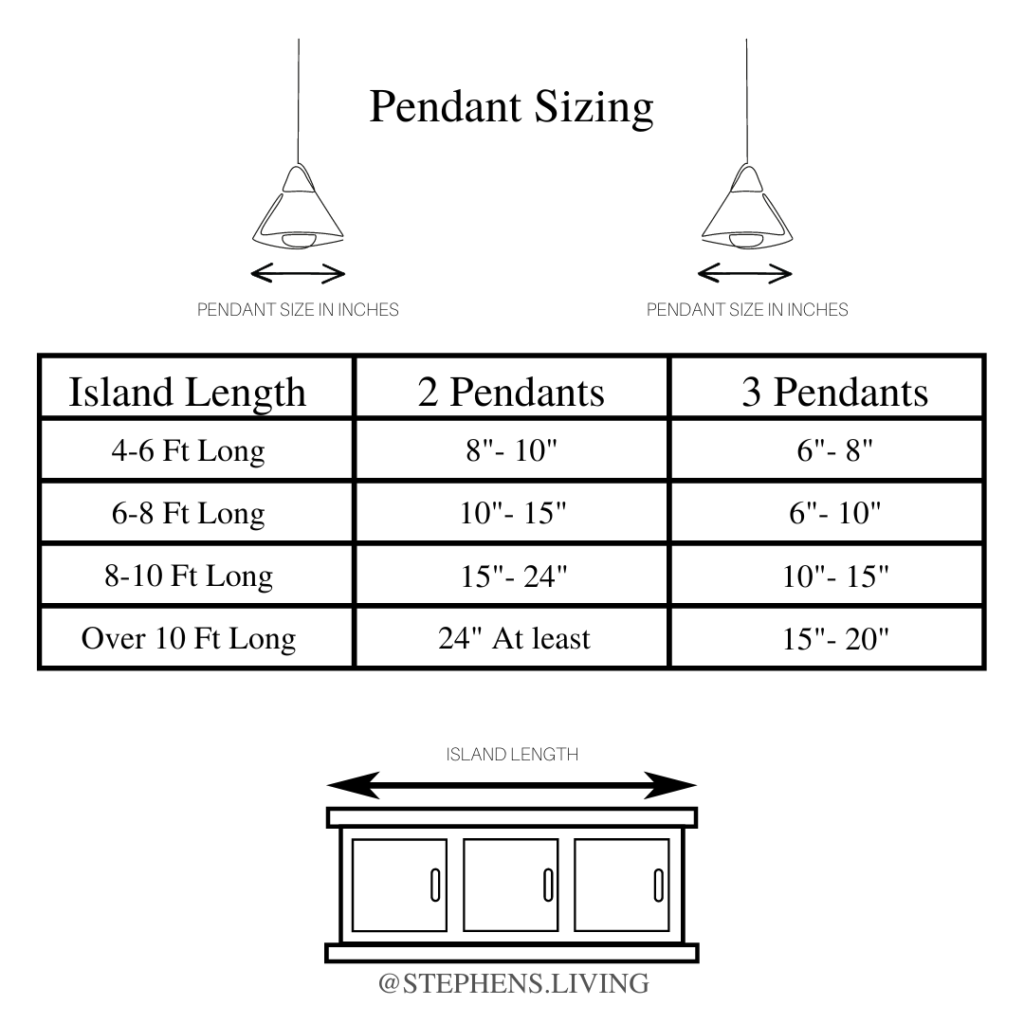 How to Space your Pendants
Luckily, this part can be very simple. Measure the size of your kitchen island and decide if you want two or three pendants. If you're in love with a particular style of pendant and it happens to only come in a small size, then get three of them! There should always be even spacing between each light. Additionally, keep the outside pendants within 4-6″ inside the length of your island to ensure no one can hit their head.
A larger central pendant light alleviates the worry of doing this. Just remember, to leave 30″ to 36″ above your island. This will avoid the lights hanging directly in your light of sight. When in doubt, hang the pendants higher rather than lower. See the guide below to understand exact spacing and measurement.
Here are some examples of pendant lighting to provide some inspiration on selecting and placing pendant lighting! Be sure to check out the list of preferred places to purchase pendant lighting, just below.
CLICK ON A PICTURE BELOW TO SHOP THE PENDANT!
[show_shopthepost_widget id="4916027″]
[show_shopthepost_widget id="4916029″]
[show_shopthepost_widget id="4916031″]
[show_shopthepost_widget id="4916032″]
Find your Pendant Lighting at These Stores: